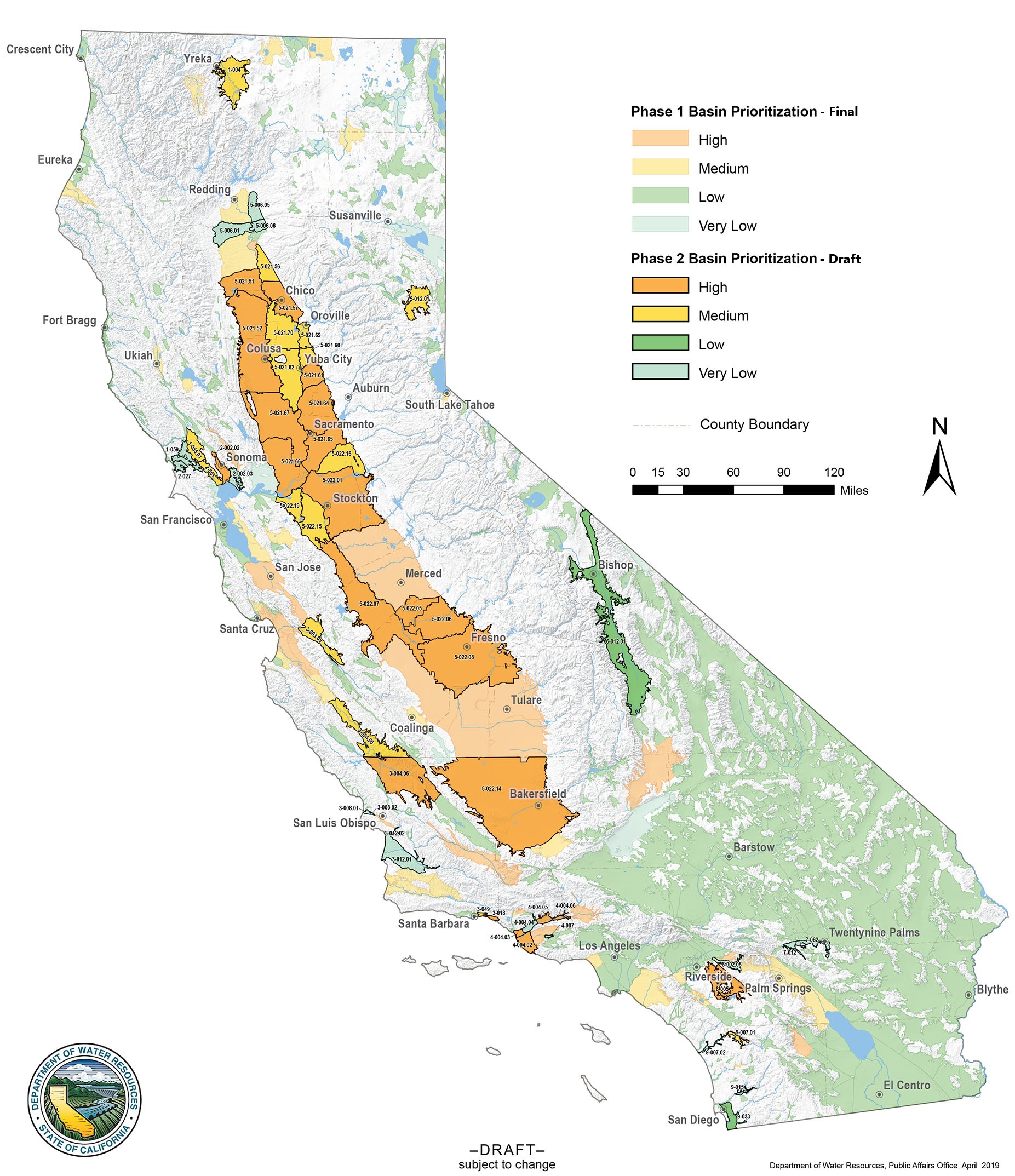 California's 515 groundwater basins are classified into one of four categories; high-, medium-, low-, or very low-priority based on components identified in the California Water Code Section 10933(b).
Basin priority determines which provisions of California Statewide Groundwater Elevation Monitoring (CASGEM) and the Sustainable Groundwater Management Act (SGMA) apply in a basin. During the prioritization process, the best available datasets and information are applied in a consistent, statewide manner in accordance with the provisions in the California Water Code.
DWR was first directed to prioritize basins as part of the Groundwater Monitoring legislation enacted in California's 2009 Comprehensive Water Package. DWR prioritized groundwater basins through the CASGEM Program and released the results in 2014.
In 2015, SGMA went into effect and required DWR to prioritize basins when basin boundaries are modified. In 2015, DWR used the 2014 CASGEM Basin Prioritization as the initial SGMA basin prioritization.
In 2016, DWR received 54 requests for basin boundary modifications. DWR released the final groundwater basin boundaries, which incorporated numerous statewide jurisdictional and scientific modifications. In December 22, 2016, DWR published Bulletin 118 Interim Update 2016, which included the boundary modifications and required DWR to reassess basin prioritization. 
In January 2019, DWR released SGMA 2019 Basin Prioritization Phase 1 for 458 of the 515 basins that were not affected by 2018 Basin Boundary Modifications. The results from the basin boundary modifications were released in February 2019. The 57 basins which were affected by these modifications were prioritized in SGMA 2019 Basin Prioritization Phase 2. Draft results from Phase 2 have been released and are expected to be finalized in early summer 2019.